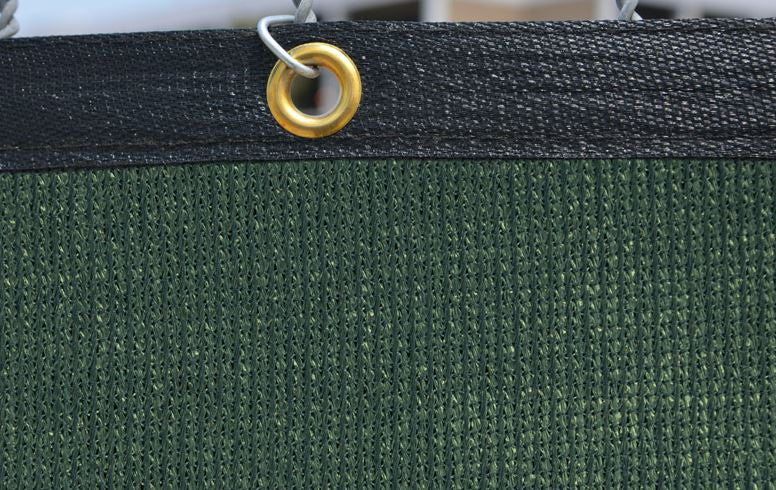 4ft high Fence Screen
€25.00
Upgrade Your Fencing Privacy with Our Commercial and Residential Privacy Screens
When it comes to achieving the perfect balance between privacy and air circulation for your commercial or residential fence, look no further than our privacy screens. Our economical privacy screen solution offers a clean and sleek appearance that suits a wide range of applications, including construction sites, special events, backyards, and landscape projects.
Key Features:
Available in Various Sizes: Choose from 4ft, 6ft, 8ft high, and 10ft, 25ft, or 50ft lengths to meet your specific privacy needs.
Stylish Dark Green Design: Crafted from 100% UV-stabilized polyethylene, our screens maintain their vibrant dark green color over time.
Durable Knitted Construction: Our privacy screens are designed to withstand the elements and won't fray, ravel, tear, or rip.
Versatile Applications: Use them as site barriers, crowd control tools, or privacy enhancers.
Specifications:
Designed for 4', 6

', 8'

High Fences: The actual height is 3' 8", 5

' 8",7

' 8",

and each screen features 62 grommets for easy installation using cable ties.
Superior Visibility Blockage: Enjoy an impressive 85% and 99% visibility blockage, thanks to the high-quality 1.5" double-sided black binding and polyethylene knitted design.
Extra Benefits:
Free Shipping to Ireland: We offer free shipping on all purchases to Ireland over €50.
Fast Delivery: Your order will be at your doorstep within 48/72 hours of payment (Monday-Friday).
Quality Guarantee: We stand by the quality of our screens and are committed to providing high value. In the unlikely event that you're not satisfied with your order, we offer a 14-day refund policy. Simply contact us for return instructions.
Elevate your privacy and enhance your outdoor spaces with our top-quality privacy screens. Don't compromise on style or functionality; choose the perfect solution for your fencing needs today.